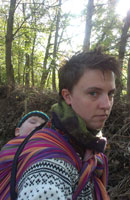 I am Yvonne de Jong, mother of a girl (2011) and a boy (2013). As long as I can remember, even when I was still pregnant, I knew I wanted to carry my baby. Maybe it was mostly because we are adventurous hikers who like to go off the beaten track. The numerous advantages of babywearing regarding attachment and physical development, I could not imagine even then.
I have always found babywearing ideal and I really enjoy carrying my child so close to me – while keeping my freedom of movement.
But the road was long… It did not come easy. I remember struggles with the woven wrap, trying to follow wrong or incomplete instructions from manuals and videos.
With Draagadvies Amsterdam I want to give parents what I did not have; a time to carry your baby without worries and a shortcut to gain the skills you need in order to babywear safely and comfortable.
I did the basic course babywearing consulent  in 2015, and the advanced course to babywearing consultent in 2016 at the Trageschule Nederland, which is linked to Trageschule Dresden.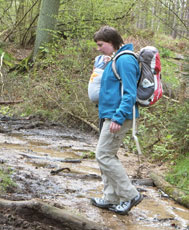 Eventually, I learnt a lot of carries myself, and I can still enjoy when I wrap with a sling. I like it,  to see how every type of carry with a wrap has its own advantages and disadvantages, and I like to choose the carry that fits the carrying person and his/her purpose best. I noticed that many parents are also keen on learning quick & easy ways to carry their baby in an ergonomic way, so I elaborated my skills and stash to give baby carrier consultations. I always find it good to see when a brand develops a carrier which is just a bit better thought-through than the established carriers, that makes my customers happy.
Furthermore, I did a course in Forestry & Nature Management and at the moment I work in a specialized outdoor/bicycle shop. In my spare time I like to do sports and I like to hike or bike. Either alone, with friends, or with the kids.
I facilitated a local babywearing facebook-group for a while, but that has now stopped. But I am always open to spread the love for babywearing!