A consultation with a babywearing consultant…
Babywearing Consultation
If you would like to have help learning to wear your baby, please contact me. Prior to a consultation, we will talk about what you want to learn and with which wrap or carrier we will work during the consult. Usually I will come to your home, but at my home is also one of the possibilities. Depending on the location where the consultation will take place, travelling cost may be charged additionally to the price of the consultation. (See at the bottom of this page.)
Why consult a babywearing consultant?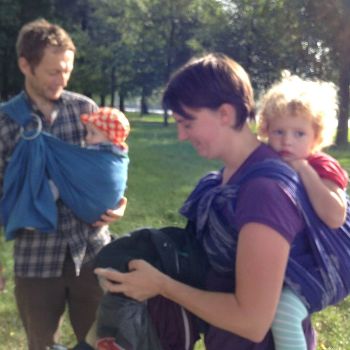 With a consultation, you 'buy' security, comfort and more ability to enjoy. What you are actually investing in, are knowledge and skills that you can enjoy for quite a long time. Joy which one cannot express in money. And in case of a baby carrier fitting consultation, you buy off a lot of time and energy to maybe buy several baby carriers and try to sell them again, ór you 'buy' the security that you are purchasing a baby carrier that you, maybe also your partner, and your baby fit well and that does not annoy your body or cause physical problems. At Draagadvies Amsterdam Babywearing Consultation Amsterdam you are asured of adequate advice from an educated babywearing consultant with a lot of experience and knowledge of products.
Why Draagadvies Amsterdam?
8+ years of experience in Babywearing Consultancy.
The babywearing consultant is educated in babywearing consultancy and member of the VDC (Association of Babywearing Consultants) , by which keeping up being educated is guaranteed.
The babywearing consultant has ample experience with babywearing herself. For example, she has tried out over 50 different baby wraps and about 20 ergonomic carriers for use during consultations. Experienced she is also, as a mother of two, with whom she has 6 years of carrying experience alltogether.
Afterwards, you receive an email with the list of steps for tying your wrap carry or using a baby carrier, as well as extra information and links that open the doors to "babywearing land" 🙂
You receive discount codes with which you can order a carrying aid of your own choice at a few webshops.
Afterwards, you can allways contact me if you have any more questions or doubts. 
Prices
Underneath the different consultation types are described more elaborately, but here is a short list of what you get and what it costs. The prices are for successively one person, and for a couple. 
consultation for 1 type of carry (with woven or stretchy wrap)  € 65 / 80
consultation for fitting on baby carriers € 65 /80
consultation with 1, your own, baby carrier € 50 / 60
consultation for 1 type of carry ánd for fitting on baby carriers € 90 /110
consultation for 2 types of carriers (woven and/or stretchy) € 90 / 110
fitting ons different means of babywearing, and learning 2 of them well € 105 / 120
3 or 4 caretakers learn 1 type of carry OR to use the carrier well. € 120
1. Basic Consultation wrap
During a basic consultation wrap you learn how to wrap in one way with a woven wrap, a stretchy wrap, a mei tai (meh dai) or a ring sling. I explain about ergonomics so you know what to check when carrying. I take the time to take you through the steps, so you learn how to wrap your baby in the sling and carry your child safely ánd comfortable. The first time we practice with a special carrying doll. 
The consultation takes about 1,5 hour. Costs: € 65. For both parents €75.
2. Basic Consultation carrier
Do you want to carry your baby in an ergonomic carrier (or SSC – Soft Structured Carrier)? Then book this consultation. I bring several different carriers, which I demonstrate.  I show you the advantages and disadvantages of the different carriers. I also teach you what is important when carrying your baby in an ergonomic carrier. You choose one, two or three you like and try them on, so you find the carrier that fits you best. I teach you how to use it, adjust it, and how to place your baby in it, in an ergonomic manor. This consultation takes about 1 to 1,5 hour. Costs: € 65. For both parents €75.
3. Basic Consultation adjusting your carrier
Do you already own an ergonomic carrier but it does not really feel comfortable? You cannot seem to figure out how to adjust it well, or you have doubts whether your child is safe and comfortable in it? I explain you something about the ergonomics of carrying and how to apply it wearing your baby in a carrier. I help you adjusting, so you know how to adjust it yourself and make it comfortable for you and your baby. This consultation takes about 45 to 75 minutes. Costs: € 50. (For both parents €55.)
4. Deluxe Combi-consultation – often chosen
A Deluxe Combi-consultation is a combination of the Basis consultation Wrap AND carrier. This means I teach you one carry with a wrap thoroughly. I also bring carriers, which I demonstrate. You try on one or a couple of them and I teach you how to use and adjust it well. Of course I also tell you what are the things you have to take notice of in carrying in a safe and comfortable way. This takes around 2,5 hours. Costs: € 90. (For both parents € 110.)
5. Deluxe Wrap consultation
In a Deluxe wrap consultation, I teach you to wrap in two different ways (of with 2 different types of wraps), instead of one. I advice you to book this consultation only if your have allready some experience, because the duration of the consultation it can become very intensive. Which carries I will teach you, we discuss in advance, however we can together decide to change that during the consultation. It takes about 2 – 2,5 hours. Costs: € 90. (For both parents € 110.)
6. 'I want it all'-consultation
You don't know what you want, and you just want to try everything? It is possible in the 'I want it all'-consultation 🙂 I help you trying on a woven wrap, a stretchy wrap, a ring sling, a halfbuckle carrier and a fullbuckle carrier. Now you can choose 2 types of carrying things, which I will teach you thoroughly how to use it. Duration: about 2,5 to 3 hours or sometimes longer. Costs: € 105. ( For both parents: € 120.)
7. Family Package
You want grandma, grandpa, uncle, aunt, the babysitter or another caregiver learns to carry your baby? Choose the Family Package. I teach 3 or 4 caregivers  to do one carry (wrap) and/or work with one ergonomic carrier. Naturally, I also tell you what to take notice of, concerning safety and comfort of the baby. Takes about: 2,5 to 3,5 hours. Costs: € 120. 
Babyshower 
THE perfect gift for a babyshower: You will work with wraps and carriers – including a bit of guessing and trying, so fun is guaranteed! I explain the importance of ergonomics in babywearing (nice that the entire family or other parents-to-be know: hit two flies in one blow!) The mother or father-to-be gets instructions about the carrying product of his/her choice AND receives a goodiebag with discount codes to order a wrap or carrier. The price of this babyshower visit, we keep among us 😉 
Travel Costs
In most cases I do not charge travel costs and I come almost always by bike. Amsterdam Zuid-Oost, in Zaandam, Hoofddorp, Haarlem etc. is usually not my work area. When I work in these places, I do charge travel costs. This can very from 4-8 euros.