Would you like to book a consult, rent a wrap or do you want more information? Please do not hesitate to send me an email! Currently, Email-links seem to have problems coming through to my mailbox, so please send your mail to: yvonne (dot) roep @gmail(dot)com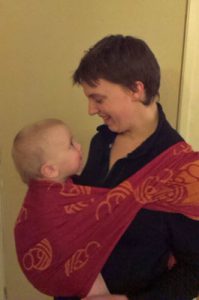 In a hurry? send me a text, or a message via Whatsapp to 06-15 864 209
Find Draagadvies Amsterdam on Facebook!
Join the Amsterdam babywearing community on Facebook. Dutch is used here, but you can easily post or reply in English.
Have a look at my babywearing blog (also in Dutch): Draag Maar Raak
Every first saturday of the month, you can find me answering questions at the Baby-café Amsterdam Nieuw-West. Slotermeerlaan 103, in Coffeemania. See the link for details on Facebook.