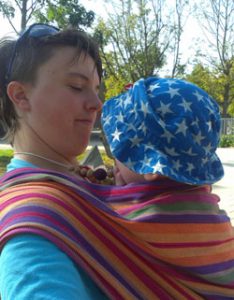 Do you want to learn how to carry your baby? Would you like to be hands free? Do you want to give your baby a good start in life?
Or do you just want to have your baby close to you?
There are many ways in which and products with which you can carry your little one, but…. what is the best, most comfortable and handiest way for you and your child? And, if you have chosen a wrap, how should you wrap, which knotting variation should you choose?
Maybe you are already experienced in babywearing, but the tying variation just does not seem to work, or your child keeps sagging.
A babywearing consultation can in these cases work! From experience I can tell the investment is so worth it. Enjoyable babywearing is an experience wich is impossible to express in money!
Do you not have any idea about the possibilities or about what is available in babywearing world, then you could read on at the information page.
Getting help in choosing the right wearing-system for you or trying on systems, is by the way also one of the options at Draagadvies Amsterdam!
Please feel free to contact me.